If you're part of a sales function within an organization, then getting your remote pitching strategy in order is an important part of your overall COVID transition plan. With global and domestic travel restrictions looking to stay in place for the short to medium term, remote pitching is likely going to be the new way to initiate sales interactions for the foreseeable future.
Unfortunately, learning how to become an effective remote pitching team isn't quite as simple as setting up a webcam and microphone at your workstation. In person meetings have some advantages over sales proposals conveyed remotely. In this blog, we'd like to provide some guidance for how companies can effectively bridge the divide and make remote client meetings as effective and streamlined as possible.
Selling during the age of distraction
Breaking through the noise has been a challenge for marketers and sales teams since time immemorial. And these days — with everything from social drinks to business pitches happening online — that challenge has only grown greater. Not only do sellers need to deal with the increasing overwhelm facing their buying audiences, they also need to deal with the mental space which personal turmoil might be taking up in buyers' minds during this period of change and transition — one which is unprecedented in recent memory.
For instance, buyers might be concerned about a loved one who has contracted the virus. They might be working from home for the first time and acclimatizing to juggling the challenges of domestic and professional duties in the same physical space. Perhaps their business has been thrown into disarray by the virus and they are losing sleep (literally) about how to keep the lights on. The types of personal and mental health challenges that the current crisis can throw up for buying audiences is legion. And mental health issues including anxiety and depression are known to cause impaired concentration.
The coronavirus therefore presents a multifaceted challenge for sales teams for whom pitch meetings are a core part of their diary. On the one hand, thanks to the explosion of remote working and the existing connectivity that has enabled the transition to happen, it's arguably easier than it has ever been before to facilitate meetings with sales teams. On the surface, it seems as if an internet connection and webcam are all that are needed to make the pitch. On the other, it's psychologically harder to forge a connection with buying audiences. Both the deficiencies of remote communication and buyers' heightened distractibility are very real threats to effective message delivery. Modified communication is the answer. Here are some suggestions for how to drive the right change.
Design microsites with focus in mind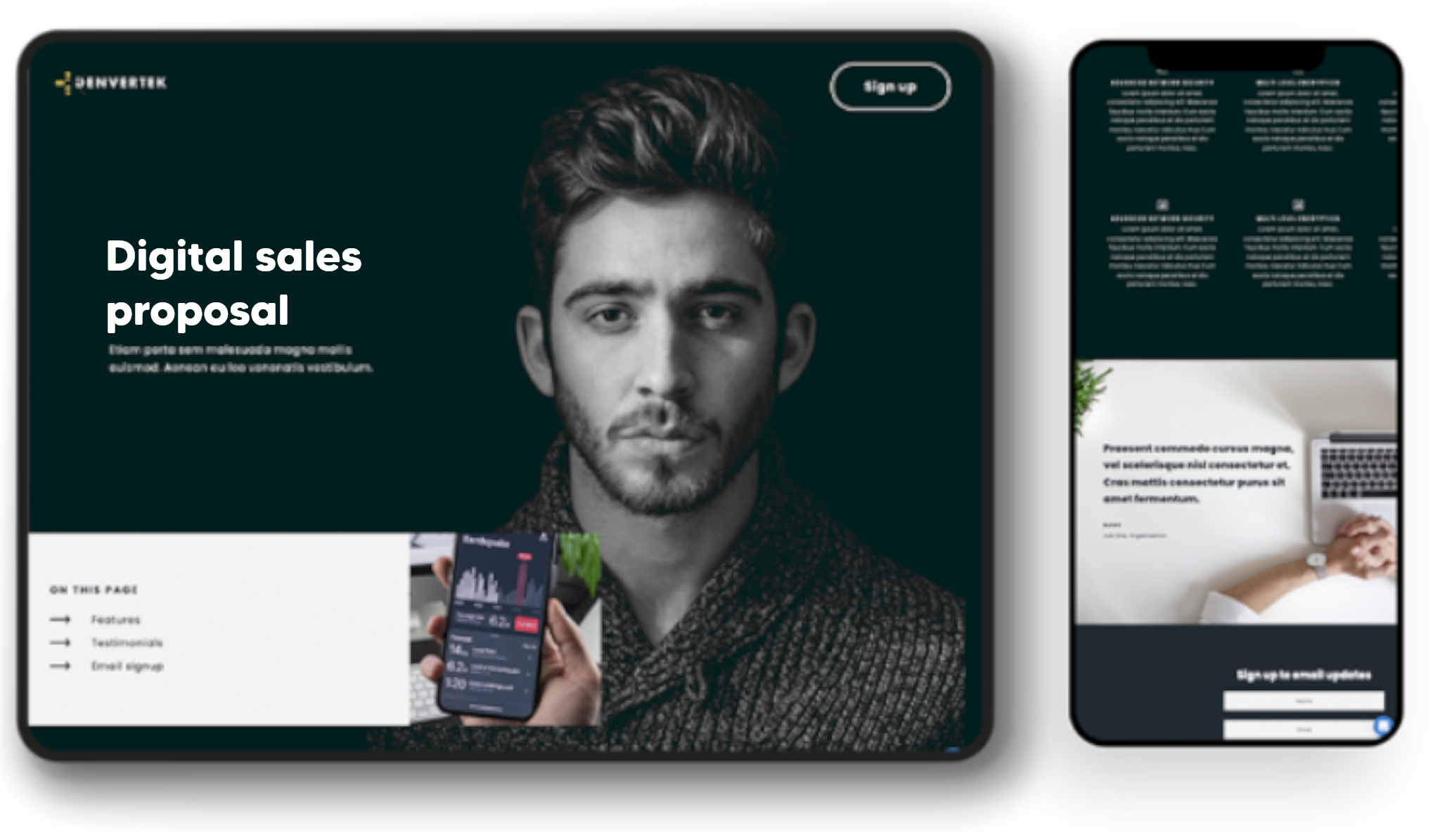 Microsites are small websites that are often put together for one-off purposes as part of bid development exercises during a tendering process. In other cases, they can be used for account based marketing (ABM). Microsites offer more compelling buying experiences compared to more traditional formats such as static websites (examples of the latter include brochures and presentation decks). As such, simply using microsites is a good way to cater for the concentration whims of audiences with built-in heightened distractibility.
But to be as effective as possible, pandemic-era microsites need to be built according to some specific guidelines to maximize their effectiveness.
These include:
Distilled messaging
Before putting together the first wireframe, selling teams should ask themselves what information they consider the most critical to their buying audience. What's the elevator pitch? And what goes after that? This information should be displayed prominently on the homepage. Supplementary content — like further use-cases or tangential benefits for the prospective buyer — can be positioned somewhere else in the hierarchy. Therefore, it's useful to map out and order by priority the information that needs to be conveyed through the microsite. Additionally, the order of the microsites should reflect the type of content that the audience is likely to care about. For instance, sellers should lead with financials in a microsites targeted for a CFO and with team biographies in an asset being sent to a HR director.
Iterate for different audiences
Content that feels too generic has a lower chance of resonating with target audiences — and the same has been shown to hold true for images. One of the advantages of targeting audiences with microsites is that they can be quickly copied in order to develop relatively quickly microtargeted assets that are hyper-personalized to the unique interests of a buying audience. For instance, B2B sales processes often involve pitching a product or service to an evaluation panel. Conventionally, sales teams might send the same resource to the group as one. Using technologies such as microsites, however, allows selling teams to create different engaging experiences for each member of the purchasing committee. Generic cookie-cutter content is a great way to lose the attention of already distracted audiences. Sellers can iterate down and across a recipient audience in order to increase engagement and achieve better outcomes.
Design for mobile
The new distributed-first working environment has made it more important than ever to ensure that websites have responsive mobile-friendly versions. Microsites can be designed to look good whether accessed from a mobile or desktop device.
Get your tone down (literally)
Many selling teams are reporting a curious and unexpected effect of the pandemic: the shared struggle of mankind, which transcends countries and cultures, has led to professional contacts — like buying and selling teams — forging stronger and more authentic relationships than may have been the case previously.
For communicators, it's important to design a website using a tone of voice that reflects this societal change. Now is an excellent time for communications teams to reflect upon whether the brand voice they have been speaking in is really their own. Consider lowering the formality a notch and focusing on building a real connection with prospects. The results usually speak for themselves.
Remote pitching can work
Today's hyper-distracted and remote-first environment undoubtedly presents challenges to sales teams more accustomed to pitching for business at clients' sites rather than online.
However, with some modifications, it's possible to emulate previous bricks and mortar success — or even build upon it to achieve new heights.
Microsites, which can deliver immersive and personalized user experiences, are ideal tools to overcome the yawn factor when pitching to buyers.
Some quick changes to make to steer towards success: focus on ordering messaging logically and use an authentic and natural tone of voice. Avoiding stock imagery and stock language can help too. Personalization and intentionality are key. Microsites, rather than static documents, are the ideal tools to facilitate such radically revised pitching.
To book a demo or contact us to find out more about the Zoomforth platform, please visit us online at Zoomforth.com
Create interactive, trackable and secure sales proposals with Zoomforth.